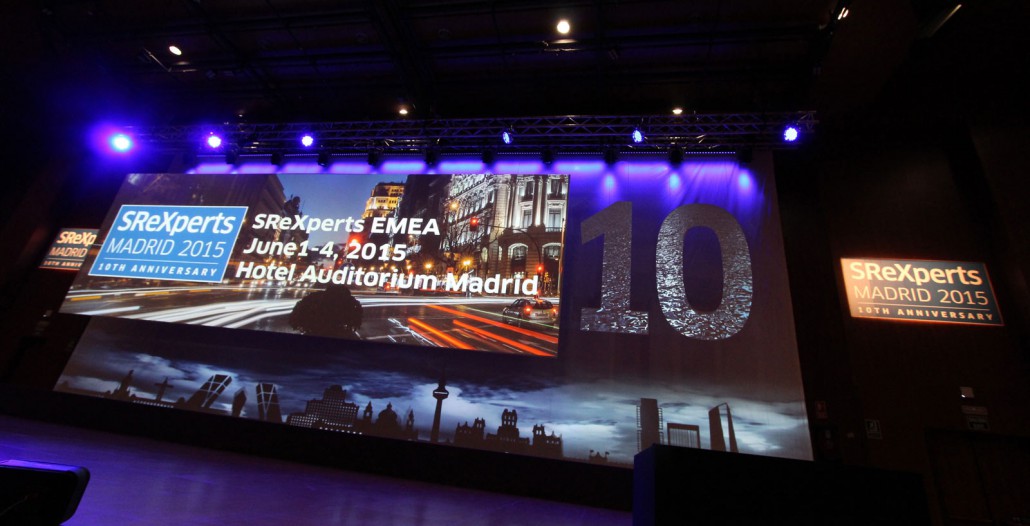 1
3x 12,000 lumen projectors with soft edge blend showing video, speaker support and live camera all mixed within Dataton Watchout
2
5x soft edge blended ultra short throw 3500 lumen projectors behind baffle showing silhouette of Madrid and moving clouds
3
1x 12,000 lumen projector video mapped on to "1 & 0"
Alcatel Lucent
Project
: SReXperts (EMEA Technical User Group Conference)
Location
: Auditorium Hotel, Madrid
Audience
:  800 network architects and planners
For the past seven years Multimedia Plus has worked in partnership with leading global event management agency, Conference Contacts, supporting them by providing full professional technical production for Alcatel Lucent's annual EMEA User Group, SReXperts.
"As 2015 was the technical user group's 10 year anniversary, the client wanted something extra special to celebrate this important milestone," says Guy Ferguson, Technical Director for Multimedia Plus. "We devised a 20-metre wide custom-designed stage set with several dynamic elements. The design included a 15m wide backdrop used as a digital canvas, a 10m wide seamless speaker support and live camera widescreen (allowing for full panoramic AVs that were specifically produced  for the opening and closing sequences), plus a giant sculpted "10" that was video mapped with animated textures and visual effects.
"Using 5 blended ultra-short-throw projectors, we projected a silhouette of the Madrid skyline onto the bottom of the backdrop. We combined this with an animated sky and cloud sequence, which we feathered off to black so it bled into the wash battens and PAR cans that we positioned at the top.
"We used 3 high powered video projectors from the back of the auditorium for the main speaker support screen and video-mapped a single projector onto the massive 10."
These three moving elements provided the high impact that the client was looking for, and kept things visually interesting throughout the 3-day event.
The team used Dataton Watchout software and vision-mixed live camera feed with speaker support side by side, so that even those at the back of the auditorium could really engage with the presenters.
As well as 5 breakout rooms, there was also a large product demo room (featuring over 45 plasma screens), where the attendees could experience detailed product demonstrations, learn from the Alcatel Lucent experts and network with their industry peers.
"Thank you again for an awesome event.  I am so grateful to have such a wonderful crew to rely on."
Karen Whitaker, Senior Events Manager, Alcatel-Lucent