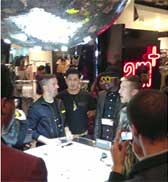 Working with Selfridges and iam+ (a new technology company set up by Will.i.am that has just launched a number of iPhone camera attachments), we used two IP cameras to take pictures of the in-store customers.
We fed these pictures into a couple of Apple computers that were using face recognition technology to cut out head and shoulder shots of people to a uniform size. These were then fed to another computer where they were flown in from either side of the screen to build a photo mosaic of Will.i.am holding the new iam+ camera. It was fun to see people suddenly recognising them selves as part of the on-screen mosaic; it created quite a buzz as it was right next to the till.
And just a month later, I was in a discussion with one of our other clients who was asking for pictures to be taken of the delegates at a conference. I showed them the video below and we have since been asked to provide a similar standalone mosaic system for use on a European roadshow to run on a screen behind the registration desk built within a portable display system.
https://multimediaplus.co.uk/wp-content/uploads/2013/09/wia_photo1.jpg
182
168
Guy Ferguson
https://www.multimediaplus.co.uk/wp-content/uploads/2013/09/mplus_number1-300x67.png
Guy Ferguson
2013-02-16 10:58:42
2016-11-15 11:14:34
Live mosaic of Will.i.am